Prayer of the Day
Feast of The Passion of St. John the Baptist
August 29th, 2014
""So Herod sent one of his body guards with orders to bring John's head.""
Matthew 6 : 27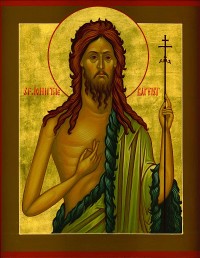 John spent his life witnessing to Christ.  Even before his birth when Mary visited her cousin,  Elizabeth,  the latter informed Mary that the child in her womb "leaped for joy as soon as he heard Mary's salutation."   Even in his Mother's womb John recognised and saluted the presence of Jesus,  his Lord and Master.  From then on John knew his mission was to prepare the people for the coming of Jesus, the Messiah and to point him out to the people when he arrived.
John was the last of the great prophets of the Old Testament.  He linked the Old and the New.  He was a man of great humility.  When he pointed out Jesus to the people,  John said of Jesus;  "He must increase,  I must decrease."  It was John's mission to testify to the people that he saw God's spirit coming like a dove from Heaven and resting on Jesus when he,  John,  baptised Jesus.  Now John would hand over his mission to Jesus.  Once Jesus came along John faded into the background.   Jesus said of John;  "There is no one born of women greater then John the Baptist."   Eventually Herod had John thrown into prison and beheaded.  Thus,  he died a martyr's death.  This was his last and greatest act as a witness to Christ.
Prayer
Let us pray: May the Holy Spirit worshipped by John the Baptist be our guide and inspiration on life's journey. Amen