Prayer of the Day
Feast of The Queenship of Mary
August 22nd, 2016
"'I am the Lord's servant' said Mary; 'may it happen to me as you have said.'"
Luke 1 : 38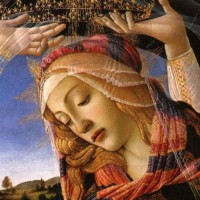 Last week we celebrated the feast of Our Lady's Assumption into Heaven.  Today we honour her as Queen of Heaven and Earth.  Reflecting on this feast,  St. Therese,  who had great love for Our Lady said; 'I think of Mary as a mother rather than a queen.'  This is probably true for most of us.  The title queen doesn't really inspire devotion in us,  unless of course,  we think of Mary as a servant queen enthroned in Heaven beside her Son,  the servant king.  Certainly Mary's words to the Angel in today's Gospel sum up her whole life.  She was the Handmaid of the Lord,  always listening to his word,  pondering on it and putting it into practice.
There aren't many words in the Gospels attributed to Mary.  As we reflect today on her attitude of discipleship perhaps we should recall her words to the servants at the marriage feast in Cana; 'Do whatever He (Jesus) tells you.'  (John 2 : 5)  Surely those are her words to each of us today.  Let us take them to heart.
Prayer
Lord we thank you for the gift of Mary, our Queen and Mother. May the example of her life inspire us and her prayers help us to be true disciples. Amen