Prayer of the Day
Feast of the Visitation of the Blessed Virgin Mary
May 31st, 2016
"Why should I be honoured with a visit from the mother of the Lord ?"
Luke 1 : 43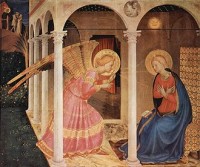 Today we celebrate the visit of Our Lady to her cousin Elizabeth,  who although now advanced in years is looking forward to the birth of her son,  John the Baptist.  Elizabeth, inspired by the Holy Spirit realises that her young cousin is also pregnant with a son who is the Promised One.  It's a moment of great joy and gratitude for both these women.  Elizabeth expresses the honour she feels while Mary sings her song of praise – The Magnificat.  We can only imagine how these two women grew in faith and love as they spent three months together in a home which was truly blessed.
The story of the Visitation brings to mind Mary's apparitions in so many shrines throughout the world.  Lourdes and Fatima are visited yearly by thousands of pilgrims.  Closer to home we have Walsingham and Knock,  both popular places of pilgrimage.  We are told that when Our Lady appeared outside the Parish Church in Knock on a wet Sunday evening over one hundred years ago,  some of the visionaries ran to tell the parish priest.  His response might surprise us;  'sure isn't she here all the time.'  Like so many others Fr. Cavanagh didn't need an apparition to make him aware of Our Lady's presence.  He knew in his heart that she was always close to him.
So while it is no doubt a great privilege to stand on ground made holy by Our Lady's presence joining others in prayer,  it's good to remember that she's always with us in our own homes,  especially when we pray the Rosary.
Prayer
'My soul proclaims the greatness of the Lord. My spirit rejoices in God my saviour.' Amen (The Magnificat : Luke 1 : 46)