Prayer of the Day
Feast of Visitation of Blessed Virgin Mary
May 31st, 2014
""Why should I be honoured with a visit from the mother of my Lord? For the moment your greeting reached my ears, the child in my womb leapt for joy. Yes, blessed is she who believed that the promise made her by the Lord would be fulfilled.""
Luke 1 : 43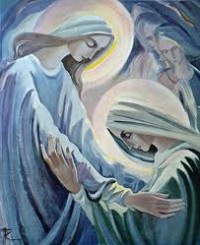 To-day the Church celebrates the beautiful feast of Our Lady's Visitation to her cousin Elizabeth.  It is a fitting way to close the month of May,  dedicated to Mary, the Mother of God.    Mary is sometimes described as the first evangelist since she was the first to bring the Good News of Jesus to others.   And what a joyful messenger she was!   Filled with Christ's presence she brought joy to Elizabeth and her unborn son,  John the Baptist.   Her joy and gratitude inspired her hymn of praise, The Magnificat,  which now forms part of the Church's Evening Prayer.
No wonder our holy Father, Pope Francis in his Exhortation,  the Joy of the Gospel,  has named his concluding Chapter 'Mary,  Mother of Evangelisation.'  (No. 284 – 288)   She is our model,  the woman who believed,  who brought forth God's word with an abundance of love.   No doubt Mary's vocation was special since she bore Christ in her womb but we too bear Christ within us when we receive him in the Sacrament of his love.  He dwells within us Sacramentally for a short time and continues to live in us by grace as we walk life's crowded highway.   That is our opportunity to share his love with others as Mary did.
Prayer
"Mary, Virgin and Mother, you who, moved by the Holy Spirit, welcomed the word of life in the depths of your humble faith as you gave yourself completely to the Eternal One. Help us to say our own 'yes' to the urgent call, as pressing as ever to proclaim the good news of Jesus." (The Joy of the Gospel No. 288) Amen