Prayer of the Day
Fifth Sunday of the Year
February 7th, 2016
"O come let us worship God and bow before the God who made us for he is the Lord our God."
Psalm 94 v.6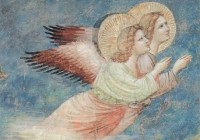 In the Reading from Isaiah's vision of God in glory,  he sees angels worshiping.  Acknowledging the holiness of God;  the prophet realises his human condition,  inability to rise.  An angel sent by God touches his lips and enables him to pray and enter the presence,  will of God for him to carry God's message to the people.
In the Psalm 137 acts of thanks in each verse expresses the human needs of our conscious efforts to acknowledge God's love and care for us always.
In Paul's letter to the Corinthians he reminds them of what his own work is,  fully conscious of what passing on the Word of God was for him / then and is the same for us now.   He gives a résumé of what he learned from the Apostles as Jesus had spoken and given to them.
In today's Gospel St. Luke described a day in the life of Jesus with his disciples then.  How can we describe a day in the life we live now in the presence of Jesus?
We ask God to keep his people safe in his unfailing care.  We rely on God's unfailing hope and grace to-day and during the week ahead.
Prayer
Lord our God, we come into your presence, we acknowledge your holiness. We recognise our weakness and your power to enable us to do your will now as you did for your prophets and Apostles. You are always present for us too, now and forever. Amen