Prayer of the Day
Fifth Week of Easter – Bl. Edmund Rice
May 5th, 2015
""My own peace, I give you.""
John 14 : 27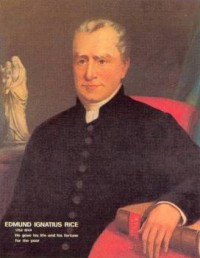 "Peace I bequeath to you, my own peace I give you, a peace the world cannot give you. Do not let your hearts be troubled or afraid. You heard me say I am going away, and shall return.If you loved me you would have been glad to know that I am going to the Father for the Father is greater than I. I have told this before it happens, so that when it does happen you may believe. .I shall not talk with you any longer, because the prince of this world is on his way. He has no power over me, but the world must be brought to know that I love the Father and I am doing exactly what the Father told me."
 Jesus' departure –
The community he has so well established, he is about to leave them to return to the Father. He gives warnings, future events may shake them. The promise of the Paraclete, the Holy Spirit will give them an understanding of all he has done and said. Jesus' love, is the focus, his concern, leaving those he knew were vulnerable. Reflecting on Jesus's words, 'I am doing exactly what the Father told me. '
In our lives, we hope to know God's will for us.
Prayer
God, our Father, those words of Jesus, are very close, to know your ' Will.' Amen