Prayer of the Day
Fifth Week of Lent – Feast of St. John Baptist de la Salle
April 7th, 2014
""If there is one of you who has not sinned let him be the first one to throw the stone at her.""
John 8 : 7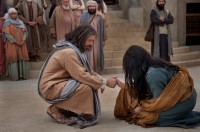 "The Scribes and Pharisees brought along a woman who had  been caught committing adultery  and making her stand there in full view of everyone, they said to Jesus; "Master this woman was caught in the very act of committing adultery and Moses has ordered us in the law to condemn women like this to death by stoning. What do you say?"  The opponents of Jesus think he will reject the Law of Moses or the Roman authority. Their question is a ''Trap'' in the hope they can use this against him. But Jesus bent down and started writing on the ground with his finger. As they persisted with their question he looked up and said; "If there is one of you who has not sinned let him be the first to throw a stone at her."  Then he bent down and wrote on the ground again.  When they heard this they went away one by one, beginning with the eldest until Jesus was left alone with woman who remained standing there. He looked up and said; "Woman where are they?  Has no one condemned you?"  "No one Sir." "Neither do I condemn you" said Jesus; "Go  away and don't sin anymore." (John 8 : 1 – 11) 
There is indirect warning to those condemning the woman. Jer. 17 : 13 "those who turn away from you shall be written in the earth, for they have forsaken the Lord."  Deut. 17 : 7  Those accusing the woman occur the responsibility for her death. Jesus' wisdom and compassion is very present in this section of the Gospel.
Prayer
God our Father, may our lives be more like Jesus In the vulnerability of life. Amen.