Prayer of the Day
Fifth Week of Lent – Feast of St. Joseph, Husband of the Blessed Virgin Mary
March 19th, 2016
"Before they lived together she was found with child."
Matthew 1 : 18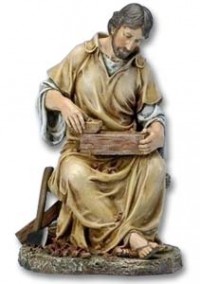 In the Jewish culture,  marriage takes place in three stages.  First stage is engagement,  second stage is betrothal,  the last stage,  the marriage proper,  comes at the end of the betrothal period.  The betrothal has the force of marriage.  However,  the couple who are known as husband and wife do not live together until after a year.  If she is a virgin or a widow sexual relation is considered illicit during this period.  After this the man takes his wife into his home.  If she is found not to be a virgin,  she will be stoned to death,  as dictated by the Mosaic Law.  Wishing to spare Mary,  who is with child,  Joseph decides to divorce her quietly,  but,  an Angel of the Lord comes to reveal to him the mystery of her pregnancy.
The virtues of St. Joseph have been the object of reflection down through the centuries.  Among those virtues,  the following stand out,  faith, prompt and silent obedience to the will of God,  true piety,  fortitude in time of trial, love for the Blessed Virgin Mary.
Prayer
God of unending grace, may we accept your gift of life, and honour you by proclaiming the message of the Gospel. Lord hear us. Amen