Prayer of the Day
Fifth Week of Lent – Feast of St. Stanislaus
April 11th, 2014
""The Lord is at my side, a mighty hero.""
Jeremiah 20 : 11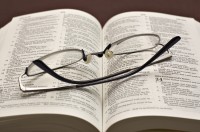 "Jeremiah said: "I have so many disparaging me, Terror from every side!  Denounce him! Let us denounce him."  All those who used to be my friends watched for my downfall. "Perhaps he will be seduced into error. Then we will master him and take our revenge!" But the Lord is at my side a mighty hero; my opponents will stumble, mastered.  Confounded by their failure; everlasting, unforgettable disgrace will be theirs. But you, Lord of hosts, you who probe with justice, who scrutinise the loins and heart, let me see the vengeance you will take on them, for I have committed my cause to you. Sing to the Lord, praise the Lord, for he has delivered the soul of the needy from the hands of evil men." (Jeremiah 20 : 10-13
Jesus and Jeremiah are similar, both suffered rejection. Faith in God was their support. Praying this passage, the injustices people suffer is very present. In time of crisis our faith in God is our support.
Prayer
We ask you lord to be with us and all people who suffer injustice. Amen