Prayer of the Day
First Week of Advent
December 5th, 2014
""Son of David, help me.""
Matthew 9 : 27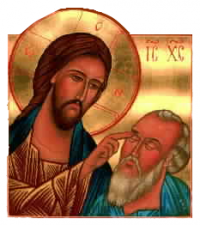 There are many lessons for us to draw from today's reading,  but we want to focus our attention on the prayer of the blind man.  Actually it was less of a prayer and more of a desperate cry for help and specifically for mercy.   They both cried out to Jesus; "Have mercy on us, Son of David."  They asked for mercy and they received mercy.   This story illustrates truths about our own relationship with God.  Like the two blind men,  we have to see our own need for healing and call out to God for help.  This is something that is not always easy for us,  but we must be persistent.  The blind men could have given up when Jesus seemed to ignore them,  but instead they followed Him into the house.  They believed,  that 's why they were able to see.
In this holy time of Advent,  we can deepen our faith and confidence in God's love and goodness.  We may be blind to many things in our lives;  to our own sins,  to the suffering of others,  to the work of the spirit,  and to the many blessings and graces we have already received from the Lord.  The physical blindness of the men is a picture of our own spiritual blindness.  Let us not forget that God draws close to us each time we call upon him in faith.
Prayer
Lord Jesus, we believe that you are able to heal us. Open our eyes to see you more clearly, and fill our hearts with words of praise. Amen