Prayer of the Day
First Week of Advent – Feast of St. Francis Xavier
December 3rd, 2014
""Great crowds came to him.""
Matthew 15 : 30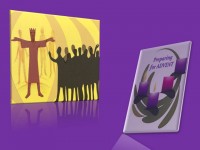 The miracles of Jesus speak of God's power and intervention in a way which makes us bow down and worship.  In today's reading, we have a beautiful episode of healing and feeding.  It is a striking fact that it was Jesus' compassion which gave rise to the miracle.  Great crowds of the sick and suffering followed him, desperate to be touched,  healed and restored to health.  Jesus was not only concerned with their physical infirmities and hunger;  he also dealt with their spiritual maladies and want.  Thus he is not a social worker dealing with our earthly problems,  nor a spiritual leader concerned only with the spiritual healing of those around him,  but he is the Lord and Saviour who comes to bring wholeness and completeness to all.   The baskets of scraps taken up at the end show that Jesus provided more than enough for the crowd.  He did not leave us orphans,  but gave us the Holy Spirit,  and continues to feed us today through the gift of the Eucharist.  In the Eucharist,  we meet the compassion of Jesus,  and in receiving this compassion and mercy we are healed,  not only from this life,  but for the life to come.
Today we honour St. Francis Xavier, the great Jesuit missionary from Spain who followed the Lord's call to go to the lands of China,  Japan and all around the Orient preaching the good news of Christ.  By his preaching,  his example and his vast missionary work,  many people converted,  and he baptized thousands of people.  His life is an inspiration and witness to live the call of the Lord with faith and zeal.
Prayer
Lord Jesus, come to us this Advent and feed us with yourself, for you are the only food that can satisfy our hungry hearts. Amen