Prayer of the Day
First Week of Lent
March 14th, 2014
""Jesus said to his disciples; 'If your virtue goes no deeper than that of the Scribes and Pharisees, you will never get into the Kingdom of Heaven.'""
Matthew 5 : 20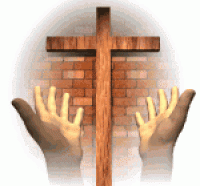 We must remember that the Scribes and Pharisees were people who kept God's commandments faithfully,  they fasted and prayed and would have considered themselves very good Jews.  And yet Jesus tells us that they were not pleasing in God's sight.  Why ?  Because their religion didn't go deep – it didn't touch their hearts.   It had no influence on the way they treated others.  It failed to make them kind and forgiving.
Forgiveness is the distinctive mark of a Christian and perhaps the most difficult virtue to practice.  Our Lord himself gives us the example when he prays on the Cross for those who are putting him to death.  Stephen,  the first martyr shows the same generosity of heart when he too prays for those who are stoning him to death.
Jesus never asks us to do the impossible.  So when he tells us in to-day's Gospel that we have to be reconciled with a brother or sister before offering our gift at the altar that means he will give the grace to do it.   But we have to ask for that grace.  Right at the heart of the Lord's Prayer we find the petition for forgiveness.  This petition is the only one with a condition attached to it.  It states clearly that we will be forgiven our sins to the same extent that we forgive others who have hurt us.   As we continue our Lenten journey let us ask the Holy Spirit to help us let go of old hurts and long standing resentments so that we can experience the liberating power of forgiveness.
Prayer
Lord by the power of your Holy Spirit give me a forgiving heart which doesn't hold grudges or bear any spite to those who have hurt me. Amen