Prayer of the Day
First Week of Lent
March 15th, 2014
""You must be perfect as your Heavenly Father is perfect.""
Matthew 5 : 48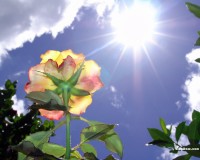 The above quotation is sometimes translated as  "You must be compassionate as your Heavenly Father."  In either case it means we must strive to imitate God's love which is universal,  generous and constant.  We humans tend to restrict our love to family,  friends – those who love us.  But Jesus says that that's not Christian love at all – even pagans will look after their own.   Since we are God's children we must become like our Heavenly father who loves all his children equally.   Doesn't Scripture tell us that "God has no favourites." (Acts 10 : 35)   If he does favour anyone it is always the poor,  the needy,  the marginalised,  who receive preferential treatment.
One place where we see these Kingdom values carried out with great love is Lourdes.  The sick are the ones who receive V.I.P  treatment at the Grotto,  the Baths,  the Processions – everywhere.  Every year thousands of volunteers,  many of them teenagers spend a week or more at Our Lady's Shrine caring for the sick and the handicapped.   And it's obvious from the atmosphere which prevails that these people,  young and older are happy giving of themselves to those in need of a helping hand.  In fact they will all tell you after the pilgrimage that they received much more than they gave.   Of course, this shouldn't surprise us since it is in giving ourselves that we become more like Jesus who gave himself totally for others.   And the more like Jesus we become the happier we will be.   St. Francis of Assisi discovered this for himself and left us a prayer which will help us on our Lenten journey.
Prayer
"Lord make me a channel of your peace. It is in giving to all that we receive and in dying that we're born to eternal life." Amen (St. Francis of Assisi)