Prayer of the Day
First Week of Lent – Feast of St. Aengus
March 11th, 2014
""You should pray like this: Our Father in heaven...""
Matthew 6 : 9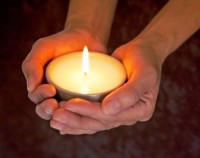 The Gospels leave us in no doubt that Jesus was a man of prayer.  Like any good Jew he prayed daily at home with his family and on the Sabbath he prayed in the Synagogue with his people.  However he also spent hours praying alone at night, on the mountains or in the Garden of Gethsemane.   It was on one of these occasions that the disciples asked Jesus to teach them how to pray.
Jesus' response was to teach them what we now know as the Our Father or the Lord's prayer.  The whole spirit of this prayer takes its key from the first two words – Our Father  –  Our Lord is inviting his disciples to join him in his prayer tot he Father whom he addresses as Abba.  As the Son of God it does not surprise us that Jesus addressed his Father in a very homely and familiar way.
Abba was the name a Jewish child would use when speaking to his human father.  No Jew would dare address God in such a familiar way.  But not only did Jesus call God his Father Abba but he invited all his followers to do the same.   Yes the Lord's Prayer is a family prayer drawing us into an intimate relationship with our Heavenly Father and with one another.  In the first part we pray that God may be glorified and in the second part we pray for our own needs.   Perhaps during Lent we might pay more attention to this beautiful prayer which is the model of all prayer.
Prayer
Lord we thank you that you have taught us to call God, Abba Father. May we grow in love and confidence as we daily pray your own prayer. Amen