Prayer of the Day
First Week of Lent
March 10th, 2014
""In so far as you did this to the least of these brothers of mine, you did it to me.""
Matthew 25 : 40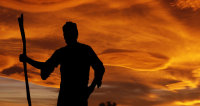 As we continue our Lenten journey we are presented with Our Lord's parable on the Last Judgement.  It is a parable which is both consoling and challenging.  Isn't it wonderful to know that Jesus takes as done to himself any act of kindness or mercy which we show to another.  The challenging part of course is that we mustn't confine our charity to our own family or friends.  We are all God's children,  all part of his family regardless of our nationality,  religion or social standing.
In fact,  if we do make a choice it has to be in favour of  "the poor,  the crippled,  the lame,  the blind." (Luke 14 : 14)   Jesus himself has given us the example of reaching out to those whom society rejected.  In the history of the Church every century has produced countless men and women who were outstanding in their love and care for the poor and needy.  But we all know people in our own families and parishes who live the Gospel of love every day.
St. John of the Cross tells us that; "in the evening of our lives we will be judged on love."   But let us not act out of fear of judgement.  Surely the fact that Christ is present in every human being will inspire us to treat everyone we meet with respect and kindness.
Prayer
Lord we rejoice that you are close to us all the time but especially close in the poor and needy. Give us a deep faith to recognise you and a sincere love which shows itself in humble service. We make this prayer in your Name. Amen