Prayer of the Day
Fourth Sunday of Advent
December 22nd, 2013
""The angel said to Mary; 'Do not be afraid, for you have found favour with God.""
Luke 1 : 30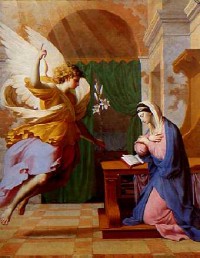 A popular Advent symbol is the "Jesse Tree."   It can be made from a bare branch.  It is like a Christmas Tree,  only it is decorated with symbols of all those who longed for and prepared for the coming of the Saviour.   Jesse is the father of King David,  mentioned in the genealogy of Jesus,  who is of the line of David.  The Jesse Tree is a fitting symbol of Advent for it reminds us of the characters in the Old Testament,  most of whom are Jesus' ancestors who "prepared the way of the Lord."   Mary is a woman who dedicates herself to God.  When she finds out God's will for her,  she offers,  herself totally to God.  She agrees to be the Mother of the Son of God.  Both Jesus and Mary live only for God.   Today is the last Sunday of Advent.
The liturgy places the figure of Mary at the threshold of Christmas,  her faith,  and her humble committed yes to God are presented for our contemplation and imitation.  We are blessed,  loved,  called,  chosen,  enlightened,  through no act of our own,  but only because of the great love God has for us.
Prayer
Lord, may we imitate the self giving ministry of our Saviour who revealed to us the way of love through word and deed. Amen