Prayer of the Day
Fourth Week of Advent – Feast of St. John Kanty
December 23rd, 2015
"A little child is born for us, and he shall be called the mighty God, every race on earth shall be blessed in him."
Antiphon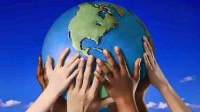 This is an antiphon full of hope and anticipation for the people.  Later in his teaching Jesus would tell his listeners, that many prophets and kings would rejoice to see my day.  Imagine Elijah the messianic prophet's joy – hope when their hopes were fulfilled.   Let us test our own hopes and see how we can achieve something that will become a reality in our lives.  What is your greatest wish for Christmas.  Pray fervently for it and see for yourself.
In today's Gospel Elizabeth gave birth to a son,  her hope was realized.  People rejoiced and neighbours came on the eight day to celebrate his christening.  Surely his name will be Zechariah (the second) and bear his father's name.  But his father spoke up; "John is his name."   Zechariah his father was given the scroll to write the child's name and he wrote; "John is his name."  Then he spoke for all to hear; "His name is John."   A miracle,  his father's hope was fulfilled and his speech was restored.   Astonishment,  surprise,  amazing joy,  belief,  faith,  obedience to the Angel's message from God,  a message of God's love for his people.
Prayer
Lord as you nourish us with the bread of life, give peace to our spirits and prepare us to welcome your Son with ardent faith. Amen