Prayer of the Day
Fourth Week of Advent – Feast of St. Peter Canisius
December 21st, 2015
"Blessed is she who believed that there would be a fulfilment of what was spoken to her by the Lord"
Luke 1 : 45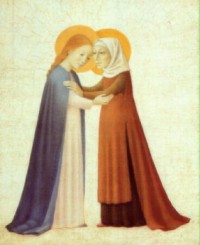 In today's Reading Elizabeth is honoured by a visit from the mother of her Lord,  and the child leaps for joy.  Our Advent joy arises from Christ's coming among us.  We prepare for Christmas with the attitudes of Elizabeth and Mary,  being open to receiving Christ with wonder and joy.
Today we celebrate the feast of St. Peter Canisius, who was born in Holland in 1521,  died 1597.  He joined the Jesuits and he promoted the Catholic revival after the Council of Trent.  His greatest work was a catechism of two hundred and eleven questions and answers,  published in 1555.
Prayer
Lord help me to realise you were born to rescue me and guide me on my way to you. Let me be a light for others to follow and rejoice in my call to follow you. Amen