Prayer of the Day
Fourth Week of Easter – Feast of St. Anthansius
May 2nd, 2015
""So they shook the dust off their feet in protest against them, and went to Iconium. And the disciples were filled with joy and with the Holy Spirit.""
Acts 13 : 51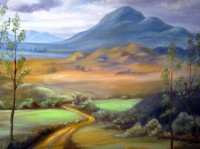 Often Jews would shake the dust off their feet when leaving a Gentile town, on the way back to their own land. This symbolised cleansing themselves from the contamination of those who did not worship God. For Paul and Barnabas, to do this to Jews demonstrated that Jews who reject the Gospel are not truly part of Israel and are no better than pagans.
Joy is one of the most attractive characteristics of those who carry the Good News of salvation. It is one of the characteristics emphasised by Pope Francis when he said that an evangelizer should not look like somebody returning from a funeral!
Prayer
Mary, "Mother of the living Gospel, wellspring of happiness for God's little ones, pray for us. Amen. Alleluia!" (Evangelii Gaudium) Amen