Prayer of the Day
Fourth Week of Easter – Feast of St. Asicus, Bishop
April 27th, 2015
""And as I began to speak, the Holy Spirit fell upon them just as it had upon us at the beginning. And I remembered the word of the Lord.""
Acts 11 : 15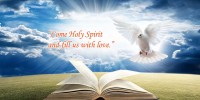 Jesus had demonstrated clearly that he and his message were for all people. He preached in Samaria, and he even reached out to Romans. The Apostles should not have been surprised that they were called to do the same.
Even today, new and unexpected manifestations of the Holy Spirit startle us. Jesus, during his life on earth was also amazed at the faith of gentiles. Referring to the 'pagan' woman from Capernaum who asked for healing for her daughter, Jesus said he had not found faith like hers among his own people, the Jews.
Gentiles were becoming part of the community at Antioch (in Syria). When the disconcerted Jerusalem community sent Barnabas to investigate, he was so favourably impressed by what he observed that he persuaded his friend Saul (Paul) to participate in the Antioch mission with him.
Prayer
Lord, help us to search for manifestations of your Spirit in the events of each day. Amen