Prayer of the Day
Fourth Week of Easter – Feast of St. Carthage
May 15th, 2014
""Whoever welcomes the one I send welcomes me.""
John 13 : 16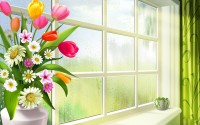 We are called to be authentic ambassadors of the Lord. We are called – actually sent – to represent the Lord wherever he wants, whenever he wants, throughout the world and throughout our life. Imagine for just a moment what that would mean. Imagine for a moment if I never said "No" to the Lord or if my life was a constant "Yes" to Christ. What would that mean? A new world! A new world order where love  reigns supreme, forgiveness is ordinary and mercy is expected.
The Lord picked Twelve Apostles, not because they were perfect and not because they were gods. He picked them because he could work with them, through them and in them.
If we claim to be Catholic, then we must live like Catholics.   This means, we must live to the fullest extent the Gospel of Jesus Christ. Otherwise people may not believe in Christ because of us, and that is a cause of great concern.
Prayer
Lord, help us to love rather than insult; forgive rather than judge, and give rather than resent others. Amen