Prayer of the Day
Fourth Week of Easter – Feast of St. Matthias, Apostle
May 14th, 2014
""It was not you who chose me, but I who chose you.""
John 15 : 9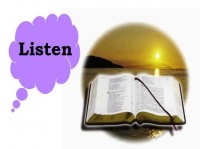 It is so hard to love someone you don't know.  But it is even harder to love someone you do know.  After all, the more you know someone, the harder it is to turn a blind eye at their defects.  That's what makes Christ's love for us so admirable, so beautiful, and so loveable.  He knows us.  Every little bit of us and still, he loves us.
 God commands us to love everyone not because we know them, but precisely because we will never know them.  God knows everyone; and although He knows, he still continues to love.  Love is the Christian's net – the catch all – for those we know and do not know, because love can define who we are and who we were meant to be.


Prayer
Jesus, teach us to see ourselves as we really are. Shine a light into our hearts so that we may be able to love as you love us. Amen