Prayer of the Day
Fourth Week of Easter – Feast of St. Pius V, Pope
April 30th, 2015
""As John (the Baptist) was finishing his work, he said, 'What do you suppose that I am? I am not he. No, but one is coming after me; I am not worthy to untie the thong of the sandals on his feet.""
Acts 13 : 25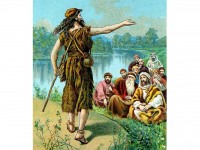 John the Baptist's vocation was to point out the Saviour: this vocation must be relived by each of us. John was very different from other leaders of his day. He was concerned only with the praise of God. He lived differently from other people to show that his message was new. He not only preached God's law – he lived it. He practised what he preached. We could ask ourselves the question: Could people discover what we believe by observing the way we live? Many people came to listen to John to hear this preacher who wore odd clothes and ate unusual food – 'locusts and wild honey'!
Jesus paid this powerful tribute to John: "Among those born of women, there is no greater than John the Baptist." Yet, John's greatness lies also in the fact that he realised it was time for him to leave the stage and hand the mission over to Jesus to bring it to fulfilment.
Prayer
Lord, I ask for the wisdom to realise and the humility to step aside when it is time to hand over my work to be completed by somebody else. Amen