Prayer of the Day
Fourth Week of Easter – Feast of Sts. Nereus and Achilleus and St. Pancras
May 12th, 2014
""He calls his own sheep by name and leads them out.""
John 10 : 3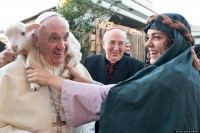 It may seem rather insulting to hear Jesus comparing us to sheep.    But actually, Jesus is commenting on how intelligent sheep can be. They know better than to follow a stranger's voice—something that even we humans don't always get right! But these sheep have become so accustomed to hearing their shepherd speak that they won't even acknowledge another person's voice.
This is God's vision for all of us. He fashioned us, as his children, with the capacity to hear his voice and be formed by his word. And to do this, he gave us the gift of a conscience, which the Church calls our "most secret core and … sanctuary" (Catechism, 1776).   It is the place where we hear the Lord most clearly and most intimately. It's our inner self, the place where we learn the most about ourselves and the place where we hear our Father tell us who we really are.
Prayer
"Lord, it's so easy to become distracted by other voices. Help me to be still and hear you. May I always follow your still, small voice and walk in your love and grace." Amen