Prayer of the Day
Fourth Week of Lent
April 3rd, 2014
""If you do not believe what he (Moses) wrote, how will you believe what I say?""
John 5 : 47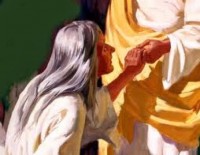 As we read Chapter 5 of St. John's Gospel, we are presented with the discourse of Jesus where we see him as healer – concerned for the weakest and most vulnerable – he himself who is poor by choice. For our sake, as St Paul says, Jesus became poor. (2 Cor. 8:9).  Jesus is 'Master of the Sabbath', because he imitates his Father, the Creator. Jesus has a close relationship with his Father. He is equal to God, as the Jews, ironically, accused him. Jesus is the fulfilment of the Scriptures – he is accused of breaking the Law; he is at the heart of the Scriptures. Jesus vindicates his identity: he is the one who gives life.
Jesus claimed to be equal with God, to give eternal life and to judge sin: these statements make it clear that Jesus was claiming to be divine – an almost unbelievable claim, but one that was supported by John the Baptist.  The religious leaders knew what the Bible said but failed to apply its words to their lives. They knew the teachings of the Scriptures but failed to see the Messiah to whom the Scriptures pointed. Entrenched in their own religious system, they refused to let the Son of God change their lives.
Prayer
Lord, help me to keep you at the centre of my life. Amen