Prayer of the Day
Fourth Week of Lent – Feast of St. Celsus
April 1st, 2014
""One man was there who had been ill for thirty-eight years.""
John 5 : 5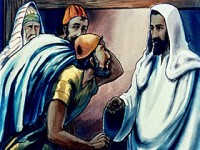 Three feasts required that all Jewish males should come to Jerusalem – the Feast of Passover and Unleavened Bread, the Feast of Pentecost and the Feast of Tabernacles.
After thirty-eight years, this man's problem had become a way of life. No one had ever helped him. He had no hope of ever being healed and no desire to help himself. The man's situation looked hopeless. Then, one day Jesus comes along and tells him to pick up his mat and return home. No matter how trapped you feel in your infirmities, God can minister to your deepest needs.
Don't let a problem or hardship cause you to lose hope. God may have special work for you to do in spite of your condition, or even because of it. Many have ministered effectively to wounded people, because they have triumphed over their own hurts.
According to the Pharisees, carrying a mat on the Sabbath was regarded as work and was therefore unlawful. This was just one of the 613 rules they had added to the Old Testament law.
A man who hadn't walked for thirty-eight years had been healed, but the Pharisees were more concerned about their petty rules than the life and health of a human being.
Prayer
Lord, we ask for healing and comfort for those who are distressed. Amen