Prayer of the Day
Fourth Week of Lent – Feast of St. John of God
March 8th, 2016
"Jesus said to the invalid; 'Get up, pick up your sleeping mat and walk.' The man was cured at once and he picked up his mat and walked away."
John 5 : 8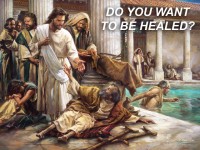 This miracle happened at the Sheep Pool in Jerusalem where Jesus saw crowds of sick people waiting to be healed in the miraculous waters.  Amongst the crowd Jesus noticed a man whom he was told had been there for thirty-eight years.  It was obvious that this man was most in need so Jesus approached him and asked him an intriguing question; 'Do you want to be healed?'  We might expect the poor man to say that of course he does but he says he can't get better because he has nobody to put him into the pool when the waters have been stirred.   But Jesus doesn't need miraculous waters in order to heal this man.  As the source of all healing He simply gives the command and the man who has been an invalid for thirty eight years stands up and walks away carrying his mat.
Now all this happened on the Sabbath Day,  which the Jewish leaders observed strictly as a day of rest.  So when they saw this poor invalid walking and carrying his mat they objected.  What showed have been for them a source of joy became a scandal.  Instead of thanking God for the miracle that Jesus had worked they began to persecute him.   Do I always see people,  whatever their situation in life as far more important than any human regulations and treat them with reverence and respect ?
Prayer
Lord you have shown us how to reach out to those who are marginalised and rejected. Pour out your Spirit on your Church so that we may be your visible face in the world today. Amen