Prayer of the Day
Fourth Week of Lent – Feast of St. Ogilvie, Scotland
March 10th, 2016
"Moses pleaded with the Lord his God.... So the Lord relented and did not bring on his people the disaster he had threatened."
Exodus 32 : 11, 14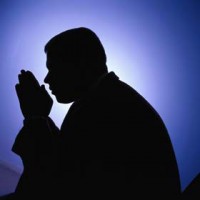 Today's first reading at Mass shows the power of intercessory prayers.  When Moses was leading the Israelites out of Egypt he would often leave them in the desert while he went up the mountain to spend time in God's presence.  On one such occasion the people grew tired waiting for him so they set up a molten calf as their God.   When the Lord saw their rebellious behaviour he threatened to destroy them and offered Moses the option of becoming the leader of a new people.  But Moses begs God to forgive his people.  He remind God that these are his very own people for whom he has worked signs and wonders as he delivered them from oppression in Egypt.  He pleads with God for the sake of Abraham,  Isaac and Jacob,  to whom he promised generations of offspring.  And God hears the fervent prayer of his servant Moses and spares his unfaithful children.
No wonder the Israelites always remembered Moses – the great liberator who pleaded on their behalf.  However,  we know that Moses was only a figure of Jesus our Great High Priest and only mediator with the Father.  As we celebrate the Eucharist we join with Christ in interceding for ourselves,  our Church and our world.  And because Christ is the glorified Son of God we know our prayer will be heard.
Prayer
Save us, O Lord, our God, gather us from among the nations that we may give thanks to you and praise your name. Amen (Psalm 106 v.47)