Prayer of the Day
Fourth Week of Lent – Feast of St. Vincent Ferrer
April 5th, 2014
""There was a division in the crowd because of him (Jesus).""
John 7 : 43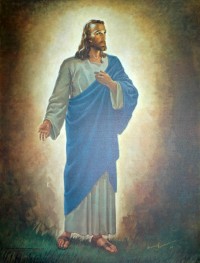 When Jesus was presented in the Temple by his parents, the prophet Simeon turned to Mary and said. "This Child is set for the rise and fall of many in Israel…" (Luke 2:34). 
Today's excerpt is taken from the reaction of the crowds who were asking questions about Jesus. Some believed, others were hostile and others disqualified Jesus as the Messiah because he was from Nazareth, not Bethlehem. Jesus was born in Bethlehem , although he grew up in Nazareth. If they had looked more carefully, they would not have jumped to the wrong conclusions. The temple guards could not find any reason to arrest Jesus. As they listened to Jesus to try to find evidence, they couldn't help hearing the wonderful words he said. God's truth is available to everyone.
Prayer
Lord, help me to be open to receiving the truth and give me the courage to follow where it leads. Amen