Prayer of the Day
Fourth Week of Lent
March 31st, 2014
"Jesus said to him (the Centurion), "Unless you see signs and wonders you will not believe." The Centurion said, "Sir, come down before my little boy dies.""
John 4 : 48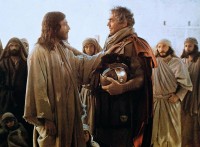 The Centurion was probably an officer in Herod's service. He had walked a long distance to see Jesus and addressed him as 'Sir': in doing so, he was putting himself under Jesus, even though he himself would have had legal authority over Jesus: "Sir, come down before my little boy dies."  This miracle was more than a favour to one official; it was a sign to all the people. The official had faith to believe that Jesus could do what he claimed: he believed before he saw the miracle. He returned home, as Jesus told him to, and then he saw the miracle.
Notice how the official's faith grew. First, he believed enough to ask Jesus to help his son. Second, he believed the assurance Jesus gave him that his son would live, and he acted on it. Third, he and his whole house believed in Jesus.
Faith is a gift that grows as we use it.
Prayer
Lord, help us to cherish life in all its manifestations. Amen