Prayer of the Day
Good Friday – Celebration of the Lord's Passion
April 18th, 2014
""Who are you looking for?""
John 18 : 4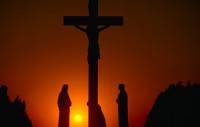 Today a special grace flows through the Church.  The cross,  not the Eucharist,  is the high point,  the focus of our celebration.  We are invited to look upon Jesus of Nazareth,  whose death was not just the answer to the question "why?", but also to the meaning and purpose of life.
How can a day on which we remember the death of Jesus by being nailed to a cross be a good day?  It is a day to give thanks and praise and glory to God for the wood of the cross on which hung the Saviour of the world.  On the cross Jesus experienced what is meant to be forsaken by God.  His cry from the cross; "My God, my God, why have you forsaken me?" captures powerfully his terrible anguish and suffering.
It is not presumptuous to say that the goal of the Holy Spirit on Good Friday is that each one of us should come to a deeper appreciation of the cross,  and a new sense of how much God loves every single person he has created.  Good Friday can,  in fact,  change our lives.
Prayer
Your cross, O Lord, is life and resurrection to your people, and on this holy day we place all our hope in it. Amen