Prayer of the Day
Holy Saturday
April 19th, 2014
""He is not here for he is risen as he said.""
Matthew 28 : 6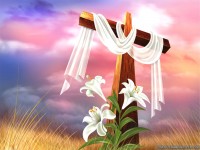 On this day two thousand years ago,  the entire cosmos held its breath,  and was rendered silent by the mystery unfolding before it.  Christ's death was a real death in that it put an end to his earthly existence.
Holy Saturday often becomes a busy day of final preparations,  last minute shopping,  and errands before the solemnity of Easter.  We can easily over anticipate Christ's Resurrection without stopping to consider the mystery of what we have just experienced on Good Friday.  Today,  however,  is the solemn day in which the Church waits and grieves with Our Lady at Jesus' tomb.  Today we keep watch with Mary in hope and faith as we await the coming glory of the Resurrection.
Through baptism we are immersed with Jesus into his descent into the tomb,  but as Christ died,  we die,  and just as Christ has risen, we too will rise.  As St. Paul put it; "We are buried therefore with him by baptism into death,  so that as Christ was raised from the dead by the glory of the Father,  we too might walk in newness of life." (Romans 6 : 4)
We are all partakers in Jesus' death and Resurrection.  Tonight ard every time we receive the Lord in the Eucharist,  we receive grace and death to die to self but rise with Christ to new life.
Prayer
Loving Father, increase our faith in you and raise us to new life in your Son. Amen