Prayer of the Day
Holy Thursday
April 17th, 2014
""Why, Lord, do you want to wash my feet?""
John 13 : 6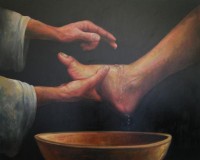 Maundy Thursday begins the most solemn moment in the liturgical year.  It is time to take stock,  to examine ourselves and focus once again on God's plan of salvation.
In today's reading,  we are told by St. John that Jesus showed his disciples the full extent of his love.  This is a moving scene between the Master and his disciples.  On the eve of his Passion,  Jesus shared a fellowship meal with his own,  and he also left them with a memory of humble service.  In washing his disciples' feet,  Jesus adapted the position of a humble and lowly servant.  Washing feet is a menial job reserved for servants.  This was too much for Peter.   He dreamed of a glorious, triumphant period with his Master, and not a future of humble service and remuneration of self.  From then on,  Peter had to contend with the fact that his greatness would be measured in terms of how much he served and gave himself for others.
The full extent of Jesus' love for every human being would be revealed in his body stretched out on the cross,  as a beautiful expression of love.  In anticipation of this he washed their feet.   A message from the Holy Thursday liturgy is; "Love one another as I have loved you."  We are called to a life of self-giving and self-sacrifice.
Prayer
Lord Jesus, teach me to die to myself so that I may live a life of love and service. Amen