Prayer of the Day
Monday in Holy Week
April 14th, 2014
""And the whole house was filled with the fragrance of the perfume.""
John 12 : 3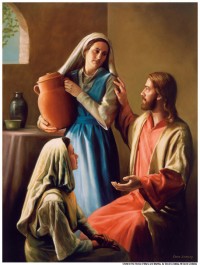 In today's Gospel,  the disciples and all believers are given a lesson in love by Mary of Bethany.  Jesus often took refuge in the home of his friends – Mary, Martha and Lazarus – and it's no surprise that he would come here just prior to the unfolding of his Passion.  He had no home of his own,  but Mary and Martha made their home his home.
There are two particularly striking things about Mary's actions.  In washing Jesus' feet,  she takes on the task usually reserved for slaves,  and the perfume she poured over them was very expensive.   Judas will criticize Mary for "wasting" the expensive oil on Jesus.  But Jesus surrenders to his friends' attention and their care,  just as he will soon surrender to judgement, pain and death.
Mary of Bethany is an example held out to us by the Church of selfless love and devotion.  To respond,  as she did,  we need to be broken,  rather like the alabaster jar,  so that the aroma of Christ can be released in our lives.   Like Mary,  let us do a generous act this week as an expression of our love for God.   Lent is the perfect time to learn to love as Mary loved.
Prayer
Have mercy on me O God, and blot out all my transgressions. Amen