Prayer of the Day
Palm Sunday
April 13th, 2014
""The disciples did as Jesus had directed them, and they prepared the Passover.""
Matthew 26 : 19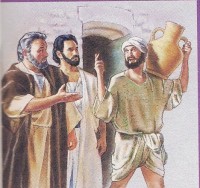 Today begins a solemn remembrance of Holy Week in which we accompany Jesus during his last days on earth before his death and Resurrection.  This is the week we pick up our cross,  and walk with Jesus along the way to dying and rising with him.
Jesus' mission,  purpose,  goal and glory are revealed in his Passion.   All four Evangelists highlight the crucifixion as the reason why the Son of God became man.   He was destined to suffer and to die and to raise us up with him.  Underpinning all of this is love.  Jesus' heart was full of the Father's love for each one of us.
Every time we celebrate the Eucharist,  we come in touch with a historical reality which is made present to us,  so that we can be healed,  fed and strengthened.  If you look at the cross, you see God's love;  when you receive the Eucharist,  you receive God's love.
We are called to take up our cross and follow Christ.  Our hope and prayer is that in this most holy and special of weeks,  each of us can grow in our love,  adoration and worship of Jesus on the Cross.
Prayer
Lord Jesus, you paid the price for our sin. Help us this week to glory in the cross and bow down before you, the Crucified and Risen Lord. Amen