Prayer of the Day
Second Sunday of Advent
December 6th, 2015
"I thank my God every time I remember you, constantly praying with joy in every one of my prayers for all of you. "
Philippians 1 : 3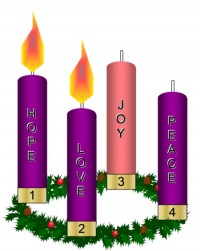 This is the first of many times Paul used the word joy in this letter. The Philippians were remembered with joy and thanksgiving whenever Paul prayed. By helping Paul they were helping Christ's cause. The Philippians were willing to be used by God for whatever he wanted them to do. When others think about us, what comes to their minds? Are we remembered with joy by them? Do our acts of kindness lift up others?
The Philippians had heard the Gospel about ten years earlier when Paul and his companions visited Philippi and founded the church there. The Philippians were partners in the Gospel. They contributed through their practical help when Paul was with them and, later, through their financial support when he was in prison. As we help our missionaries and evangelists through prayer, hospitality and financial donations, we become partners with them in spreading the Gospel.
Prayer
We thank God for all those who bring us joy each day and who help to carry our burdens. Amen