Prayer of the Day
Second Sunday of Christmas
January 4th, 2015
""The Word was made flesh and lived among us.""
John 1 : 14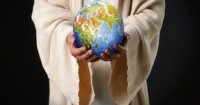 Now that the Christmas season is nearly over the liturgy invites us to ponder more deeply on the mystery of the incarnation.  Today's gospel (John 1:1-18) is a hymn to Jesus, the Word of God, the source of all life, whose coming among us makes us children of God.  We are so familiar with the text that we hardly take in its meaning.  The God who created a vast incomprehensible universe decides not only to communicate with creatures on a small insignificant planet but to become one of them in order to invite them to share in his glory.   We can only vaguely grasp this vast universe when we consider that there are galaxies estimated to be twelve billion light years from earth.  Long ago the psalmist, with only a limited knowledge of the vastness of space, wrote in wonder:  "When I look at the heavens; the work of your hand, the moon and stars that you have established; what are human beings that you are mindful of them?"(Ps. 8).
And yet we are told that before this vast universe was created God "chose us in Christ to live through love in his presence"  (Ephesians (1:3-6, 15-18). How can we ever be grateful enough to a God who showers us with so many blessings.
Prayer
God of love help us to understand the love that motivated you to send your beloved Son, Jesus, into our world. His coming as a helpless baby in poverty-stricken circumstances is beyond our comprehension. May his coming be for us the blessing you intended from the beginning. We ask this through Christ, our Lord. Amen