Prayer of the Day
Second Sunday of the Year – World Day of Migrants & Refugees
January 17th, 2016
"My hour has not yet come."
John 2 : 4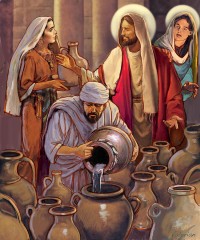 In today's Gospel,  Jesus works the first of his miracles at his Mother's request.  Here at Cana,  a new stage in Jesus' ministry had begun,  his ministry of transformation by changing water into wine.  Jesus transforms the six stone jars full of water into the very best wine.  We should not be surprised by this as it is Jesus' nature to transform.  No one can encounter him and remain unchanged.  Think of the impact he had on people when they met him,  when they heard him speak,  even when they physically touched him,  they were restored,  healed,  made new.  Jesus' entire ministry was one of healing,  forgiving,  teaching and nourishing –  all actions which transformed.
Jesus' relationship with us transforms us too.  In prayer we invite him to transform us.  Even if we don't feel any different,  change is taking place within us at the deepest level of our being.  The miracle of the water being changed into wine was the first of very many signs that are still performed among us and within us.   In the stories of Cana and Calvary,  Mary is seen as in intermediary role of unique importance.  At Cana,  she is not mentioned by name,  but she is called the "Mother of Jesus."  These two titles embrace the rich extent of her role.  In her role as Mother of humanity,  she is sensitive to all the needs and anxieties of her children on earth.  One can be sure that she continues to intercede for our needs.  "They have no wine."  Holy Mary,  mother of loving kindness,  pray for us.
As today is world day of Migrants and Refugees,  we pray for the twenty eight million people who have been displaced within their own countries.   May we realise that,  in our interconnected world,  we are linked with all displaced persons by our common humanity.  Jesus,  Mary and Joseph,  remember the men,  women and children who long for home,  in your mercy,  dry their tears and grant them new life.  May we follow St. Paul's admonition to "welcome one another as Christ welcomed you,  for the glory of God," and open our hearts to refugees around the global community. Migrants were listed along with orphans and widows as the members of society to whom God gave special care and attention.
Prayer
Lord, touch me and transform me, so that I may be a sign of your presence in the world. Amen