Prayer of the Day
Second Sunday of the Year
January 19th, 2014
""Here is the Lamb of God who takes away the sin of the world!""
John 1 : 29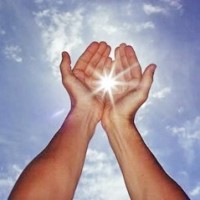 (John 1 : 29-34) The Word was the true light that enlightens all people and he was coming into the world. He was in the world that had its being through him. He came to his own domain and his own people did not accept him. But to all who did accept him,  He gave power to become children of God to all who believe in the name of him.
What is most characteristic of the Johannine theology is, 'Jesus' who is from above and not of this world. The Word was made flesh, he lived among us and we saw his glory the glory that is his as the only Son of the  Father full of grace and truth. 'Indeed from his fullness we have all received, all of us,  Yes, grace in return for grace. No one has ever seen God, it is the only Son who is nearest to the Father's heart, who has made him known. 'Glory' appears throughout the Gospel as God's glory seen in Jesus also Jesus' pre-existent glory with the Father.
Prayer
God our Father, your glory is revealed through Jesus the Incarnate Word. Amen