Prayer of the Day
Second Week of Advent
December 9th, 2015
"Come to me, all you that are weary and are carrying heavy burdens, and I will give you rest. "
Matthew 11 : 28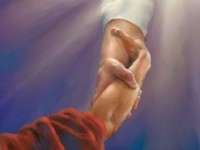 .A person may be carrying heavy burdens of sin, excessive demands of religious leaders, oppression and persecution or weariness in the search for God. In the Old Testament God had invited those who were carrying burdens or who were distressed to come and find comfort in Him. Jesus also frees people from all these burdens. The 'rest' that Jesus promises is love, healing and peace with God – not the end of all labour. A relationship with God changes meaningless, wearisome toil into spiritual productivity and purpose.
We gather all our hopes and ambitions and place them in Jesus. Hopes risk everything for a future that remains unclear, even unknown.
Prayer
Jesus, I place all my trust in you. Amen