Prayer of the Day
Second Week of Advent
December 11th, 2015
"To what shall I compare this generation?"
Matthew 11:16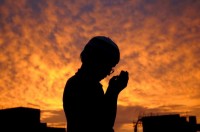 Jesus condemned the attitude of his generation. No matter what he said or did, they took the opposite view. They were cynical and sceptical, because he challenged their comfortable, secure and self-centred lives. Jesus quoted a proverb which stated exceptionally well how we need joyful people who dance readily and we need compassionate people who are always ready to sympathise. Yet each group was spurned and ridiculed:  "We piped you a tune but you did not dance!       We sang you a dirge but you did not wail!"
Jesus is pleading with us to give the other person a chance. We must not judge harshly, nor condemn too quickly. Jesus' first commandment calls us to love and unity. If we remain united in love, we will be quick with patience and slow with judgment.  Too often we justify our inconsistencies because listening to God may require us to change the way we live.
Prayer
Lord, may we not be harsh judges towards those who are genuinely seeking the truth. Amen