Prayer of the Day
Second Week of Easter
April 8th, 2016
"To all who were sitting there he gave out as much as they wanted."
John 6 : 11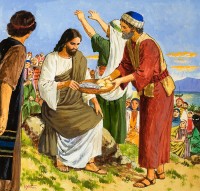 (John 6 : 1 – 15) "Jesus went off to the other side of the Sea of Galilee, and a large crowd followed impressed by the signs he gave by curing for the sick. Jesus climbed the hillside; sat down there with his disciples. It was shortly before the Jewish Passover Looking up, Jesus saw the crowds approaching and he put the question to Philip; 'Where can we buy bread for these people to eat?' This was to test Philip's faith. Jesus knew what he was going to do. Motivation of the crowd, they had seen the miracles and signs. The Passover celebration was close."
Jesus takes the initiative, puts the question to Philip, it is a test to his faith. He does not perceive and responds with the cost of feeding so many people.  "Make the people sit down. Jesus took the five barley loaves and two fish gave thanks and gave them out to all who were sitting there. The people seeing the sign that he had given, said;  'This is truly the prophet who has come into the world.' Jesus could see they were about to come and take him by force and make him king, escaped back to the hills by himself."
The messianic aspect is lost. The people looked for a natural liberator this was not the moment. The passion was yet to be.
Prayer
Jesus, you are the Saviour. Amen