Prayer of the Day
Second Week of Lent – Feast of St. Patrick, Bishop, Principal Patron of Ireland
March 17th, 2014
""The Kingdom of Heaven may be compared to someone who sowed good seed in his field.""
Matthew 13 : 24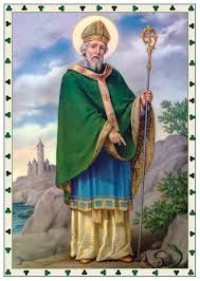 As a nation we are fortunate to have an authentic document, "The Confessions" written by St. Patrick.  St. Patrick refers to himself as the most unlearned of men,  an uneducated sinner.  In spite of his weakness God blessed his work abundantly.  He had little or no influence in Rome,  and had plenty of enemies,  even among his fellow Bishops.  This is a passage from "The Confessions."  He says,  when I came to Ireland,  I tended herds every day.  I used to pray many times during the day.  My love for God began to increase,  and my faith grew stronger,  and in the course of a single day I would say as many as one hundred prayers and almost as many in the night.  This I did when I was in the woods or on the mountain.  Even in times of snow or frost or rain I would rise before dawn to pray.
Patrick in the solitude of the mountainside learned to pay attention to the promptings of his mind.  Patrick,  man of prayer,  and faith,  who listened to the voices of the Irish people and responded generously.  Can we today,  in these times of national crises,  call on Patrick,  asking him to intercede again for our leaders of church and state ?
Prayer
We pray for Irish people all over the world. We remember especially those who are lonely, and for those who can't return home. Lord hear us. Amen