Prayer of the Day
Seventeenth Sunday of the Year
July 26th, 2015
"Jesus gave out as much as was wanted to all who were sitting ready..."
John 6 - 11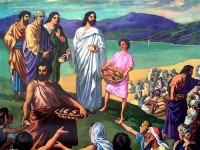 Feeding of the five thousand  –  The Gospel is very Johannine, specific places, Lake of Tiberias, the place of the appearance of the risen Lord, healings,  shortly before the Jewish feast of Passover.  Looking up, Jesus saw the crowds approaching and said to Philip,'' Where can we buy some bread for these people to eat?'' Jesus knew exactly what he was going to do.  Philip did not perceive the question was an appeal as to how deep his faith is.   His answer is the amount of money required.  .Jesus said to him, '' Make the people sit down.''  There was plenty of grass there and as many as five thousand men sat down. Jesus took the loaves, gave thanks, and gave out to all who were sitting ready, he then did the same with the fish, giving out as much as was wanted. When they had eaten enough he said to the disciples, '' Pick up the pieces left over so nothing gets wasted. '' So they picked them up, and filled twelve hampers with scrapes left over from the meal of five barley loaves.
Reflection on this section of the Gospel Jesus takes the initiative, his compassion for the people. Jesus' mission is blessings and thanksgiving, 'Eucharistic.'  The people seeing this sign that he had given, said, '' This really is the prophet who is to come into the world.'' Jesus could see they were about to come to take him by force and make him king, escaped back to the hills by himself.
Prayer
May our lives be thanksgiving for Jesus. Amen