Prayer of the Day
Seventh Week of Easter
May 23rd, 2015
""There are many other things that Jesus did; if all were written down, the world itself, I suppose, would not hold all the books that would have to be written.""
John 21 : 25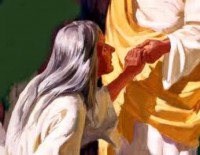 St. John reminds us here, at the end of his Gospel, that much more happened and was said of Jesus than is contained in the Gospels.
Christ came to set us free. His was a Gospel of freedom. He feared no one, neither the priestly hierarchy, nor Pilate, nor Herod. He stood up to them all. He disregarded the Jewish traditions with their emphasis on the Sabbath and on cleanliness, while at the same time they were neglecting interior purity – purity of heart. He ignored Jewish traditions which kept the poor in bondage.
He dined with publicans and sinners. He even drove the buyers and sellers out of the Temple, though he had no mandate to do so. Christ came that we might have life and have it to the full.  His light is to shine n the darkness of our lives.
Christ wishes us also to be free, with the freedom of the children of God. He loved and respected people, the blind beggar, the lepers, the woman taken in adultery, publicans etc. He gave himself to each one. "Come to me all you who labour and are burdened and I will refresh you." Matthew 25 : 28
Prayer
Lord, teach us to be compassionate towards others, especially those who are suffering and in need. May our compassion find expression in action. May we be truly grateful to God for the many gifts he gives us. May we spend our lives loving and trusting our heavenly Father who has loved us from all eternity. Amen