Prayer of the Day
Seventh Week of Easter – Feast of St. Bernardine of Siena, Priest
May 20th, 2015
""Be on your guard for yourselves and for all the flock of which the Holy Spirit has made you the overseers, to feed the Church of God which he bought with his own blood. When I have gone, even from your own ranks, there will be men coming forward with a travesty of the truth on their lips to induce the disciples to follow them.""
Acts 20 : 28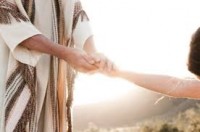 This is a continuation of Paul's farewell message to the elders of the Church of Ephesus, now modern Turkey. He is exhorting the Christians to remain loyal to the Gospel of Jesus Christ. They are to be on their guard against false teachers who would distort the truth of the Gospel message.
Paul's whole life was centred on Christ. He preached the Gospel truths that Jesus is our Saviour. We all need to be saved. Salvation comes to us only through Jesus Christ. There is no other name under Heaven whereby we can be saved. For Paul to know and preach Christ and him crucified was his whole life's work. We are no longer to live for ourselves, but for Jesus, who for our sake died on the Cross and was raised from the Dead.
In the early Church, the community of believers bore witness to Jesus as the sign of God for them. They experienced especially his life-giving presence in the breaking of bread as the disciples did on the way to Emmaus and as we do to-day.
Today is the feast day of St. Bernardine who was born in Siena in 1380.  He became a Franciscan,  travelled through Italy,  preaching with great success.  He promoted devotion to the Holy Name and to St. Joseph.  He died in 1444.
Prayer
So let us pray in Paul's words; Eph. 3 : 20 "Glory be to God whose power working in us, can do infinitely more than we can ask or imagine; glory be to him from generation to generation in the Church and in Christ Jesus forever and ever. Amen