Prayer of the Day
Sisters of the Holy Family remember Pierre Bienvenu Noailles who died 8 February 1861
February 8th, 2016
"Go up Lord to the place of your rest."
Psalm 131 v.6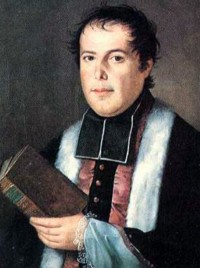 In today's Reading (1 Kings 8 : 1-7)  "They brought the Ark of the Covenant into the Holy of Holies and the cloud filled the Temple of the Lord."  I imagine Solomon bringing the elders of Israel together in Jerusalem in procession from the Citadel of David in Zion with the ark.  Now when the priests came out of the sanctuary,  the cloud filled the Temple of the Lord and they couldn't perform their duties. Solomon was wise and said; "The Lord has chosen to dwell in the thick cloud.  Yes,  I have built you a dwelling,  a place for you to live forever."
The Gospel today (Mark 6 : 53-56) "Having made the crossing,  Jesus and his disciples came to land at Gennesaret.  People came from everywhere.  They recognized and eagerly brought the sick for healing and blessings and Jesus was kept busy,  because they came out of every town,  farm and dwelling to be in his presence,  to get close enough to touch the hem of his garment.  All were cured."
Pierre Bienvenu Noailles was born in 1793 and died in 1861.  At the age of twenty six he founded the Association of The Holy Family of Bordeaux.  During his lifetime over twenty thousand people had become lay, religious, priest members of the Holy Family and the Association had been established in France, Spain, Belgium and Algeria.  Today in the Holy Family the most diverse vocations are gathered into one great unity and live in solidarity and complementarity without distinction of race, caste, culture, vocation or service. Our structure as a family in the Church unifies our prayer and action for our common mission.
We praise and bless God for Pierre Bienvenu Noailles,  as God's gift for us and the lives of all those who benefits from his formation,  inspiration and courage as we remember him today. "It is not from books that one learns the preacher's art;  it is at the foot of the Cross; it is in the depths of one's own heart.   To love Our Saviour Jesus  is to know enough to teach others to love him." (P.B.N.)
Prayer
The people still need you, Spirit of God, you are the very life of the Church. Invade us all with the wisdom, fortitude and generosity to be the people of God in deed and truth. We ask you humbly, may your Kingdom come and reign in us. Amen