Prayer of the Day
Sixteenth Sunday of the Year
July 20th, 2014
""The Spirit comes to help us in our weakness.""
Letter of St. Paul to the Romans 8 : 26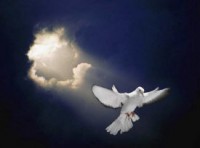 Do we ever stop to think of asking God's Holy Spirit to help us in our daily living?   The Spirit is always with us to inspire,  to enlighten and to give us strength to live our lives as God wishes us to live them.   We receive the Spirit at Baptism; Confirmation, so we become strong to overcome our weaknesses in the Spiritual life and grow in God's grace.  The Spirit is love and we learn to love God and each other when we allow this Spirit to guide us in life.
Prayer
Come Holy Spirit! Fill us with your life, set our hearts on fire to spread the good news of the Gospel by our lives. Amen