Prayer of the Day
Sixth Sunday of the Year
February 15th, 2015
""If you wish, you can make me clean.""
Mark 1 : 40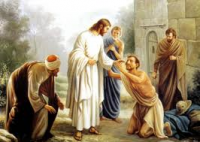 In today's Gospel, Jesus heals a man with leprosy.  To be a leper in Jesus' time is to be among the "living dead."  It was about the worst disease anyone could have,  depriving them of their personal dignity,  for it meant that they had to be isolated, cut off from normal society.  We read in today's Gospel that Jesus was not afraid to be in the leper's presence.  He reaches out and actually touches him.  He could have healed him just as well with a few words spoken from a safe distance,  but he knows that the leper needs to be healed in spirit as much as in body.
God desires us to be made clean,  to enjoy freedom and a full life rich in joy and fulfilment.  He sees our weaknesses and infirmities,  but he also wants us to come to him and to request what we need.  The real healing takes place in the hearts of those who receive the leper back into their midst.  Jesus's ministry of healing is directed not only at those afflicted with illness,  but at those who have placed the leper at the fringe of society.  We can see that today the lepers in Ire4land and in the wider world are our emigrants,  refugees,  homeless and people with aids.  Fortunately,  we have great people like Father Peter McVerry and Sister Consilio who deal with these people with the compassion and understanding of Jesus.
Prayer
Lord of all kindliness, turn our attention to those in our midst in most need of your healing, and give us the desire to make them one with us again. Amen