Prayer of the Day
Sixth Week of Easter : Feast of St. Matthias, Apostle
May 14th, 2015
""Remain in my love.""
John 15 : 9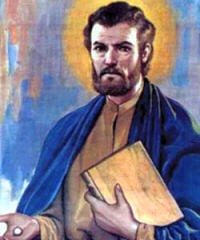 At the Last Supper,  after washing the feet of his disciples,  Jesus lays down a new commandment.  He asks his disciples to love one another.  We cannot love God and not love our neighbour.  In the Sermon on the Mount,  Jesus encourages his disciples to love their enemies;  those who are outside their circle,  even those who persecute them.
Blessed Frederic Ozanam,  who founded the St. Vincent de Paul Society,  wrote prophetically; "The earth has become a chilly place.  It is up to us Catholics,  to rekindle the flame of human warmth which is going out."  Jesus,  not only invites us,  but commands us to love in the same way.  The problem for many of us is that we can love those we like,  but when we have to deal with people we do not like,  love can seem almost impossible.   Jesus is the one who gives us the power to love.  As we let his grace work in our hearts,  we begin to grasp something of the tremendous love Jesus had for us in dying on the Cross.  "So, faith,  hope,  love abide,  these three,  but the greatest of these is love."  These words were given renewed currency and popularity when Tony Blair quoted then at Princess Diana's funeral in 1997.
Today we celebrate the feast of St. Matthias who,  like all the Apostles,  was chosen to become a witness of Christ's Resurrection.  He spent a great deal of time working in Judea,  and during his time in Turkey,  he converted many pagans to the faith.  Matthias was martyred at Colchis on the Black Sea and his relics brought to Rome by Saint Helena.
Prayer
Lord Jesus, help me to love not merely in words but in actions. Amen